Property for Sale in Nadi, Fiji
Property Details
Location: 6 Wasawasa Road, Wailoaloa Beach (Newtown), Nadi, Fiji Islands
Size: 1 Rood (1,012 sq. m)
Title: Freehold
Zoning: Special Use: Tourism Related Business or Residential; or Both
Information about Wailoaloa Beach Nadi
Details on Construction
Main house built: 2002
Downstairs apartments built: 2011 and 2016
Foundations : Firm natural ground
Footings : Reinforced concrete
Exterior walls : Concrete
Interior walls : Concrete
Floor : Reinforced concrete slab (Quarry-tiled)
Ceiling : Concrete / gib-board
Windows : Louvre (screens, pelmets and burglar-bars)
Roof : Trimdek colorbond hurricane roof
Solar Hot Water : 2 x 300 litre tanks, each with 2 solar panels
Electricity: 5 separate metres (main residence, 3 x apartments and pool)
Concrete driveway
Boundary fencing : chain and link on iron posts/concrete posts, concrete wall with balustrade fencing
Main gate (electric); pedestrian entry gate and back gate; both iron with security locks
Floor Area
Main Building : 470 sqm
Veranda Living : 226 sqm
Carport : 32 sqm
Swimming Pool Area
Riviera Blue Sapphire (fibreglass) – 6.6m x 3.3 m; depth 1.1m to 1.6m
Pool House : 3 sqm – sand filter and salt chlorinator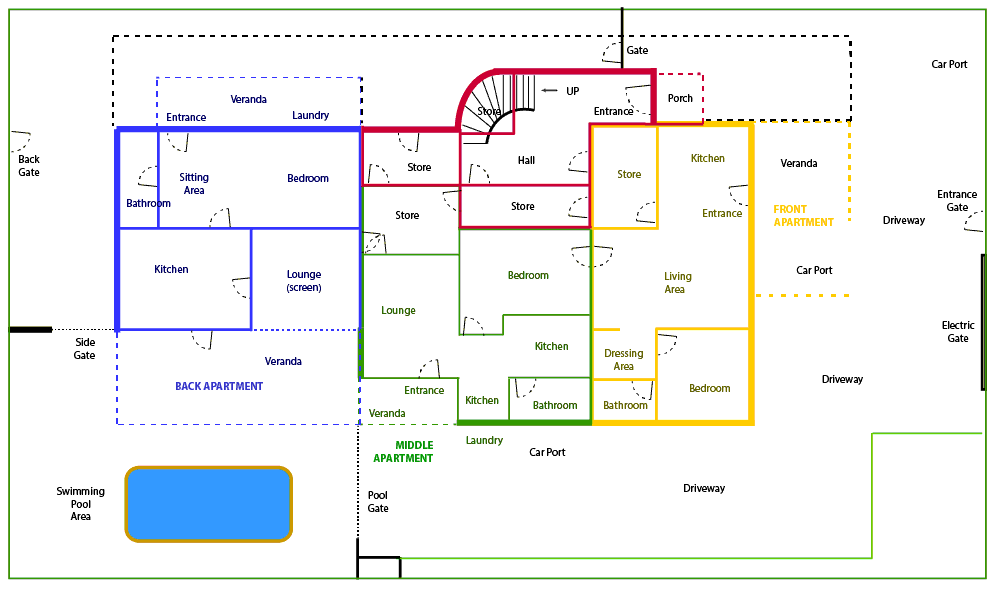 Sitting on roughly ¼ acre (1 rood), the garden is well established. Bougainvillea completely covers the front and back ends of the property offering excellent security and great year-round colour, especially in winter (mostly purple, white and orange varieties). There are golden palms also at the front, and three slow-growing Japanese cycad palms (one is 30 years old and has a twin head). Colourful zinnias lace the side garden beds amongst balabala statues, Indian Jasmine, hibiscus and other local flowering plants. There are two frangipani trees and plenty of tropical orchids, especially around the swimming pool wall. The house has four outdoor taps, one in each corner of the garden.
The 6.6m x 3.3m swimming pool is located at the back of the house, surrounded by ceramic tiles. There are two lights over the front gate posts, a sunset light facing the front driveway and other exterior lights around all verandas. All roof eave corners have spotlights (controlled from the main residence) so the property and swimming pool can be lit up nicely at night.
Wasawasa Road is part of Nadi Town Council (annual rates $600/year) and the property is zoned as "commercial", meaning a business can be established at the property (most residential areas in Nadi are zoned residential ONLY). The house sits on Freehold Title, the most sought after land in Fiji (other land titles are either "crown", "lease" or "native" which incur additional annual fees to landowners and restrictions on land usage).
In all, there are eight tourist hotels in the "Wasawasa Road" neighbourhood, three apartment buildings, 18 residential houses of which several are B&Bs. Our secluded seaside neighbourhood is flanked by the 236-room Pullman Resort & Spa and the proposed 450-room Crowne Plaza Resort (InterContinental). Our house, #6, is located on the left side as entering from the main road, and five houses back from the beachfront.
Main Residence
Apartments
Video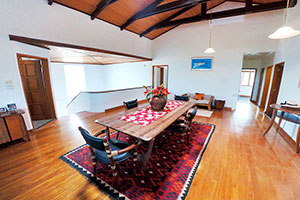 Main
Residence
3-bedroom upstairs, rental income $6,000/month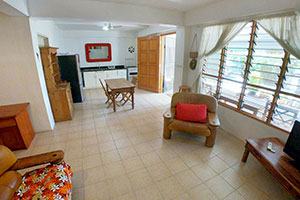 Front
Apartment
1-bedroom; past rental income $2,300/month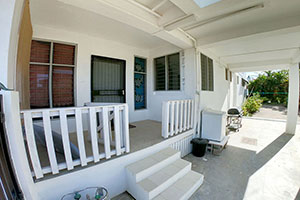 Middle
& Apartment
1-bedroom; past rental income $1,900/month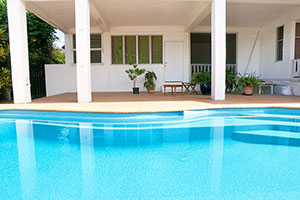 Back
Apartment
1-bedroom; past rental income $2,300/month
Fiji House for Sale: Wailoaloa Beach, Nadi